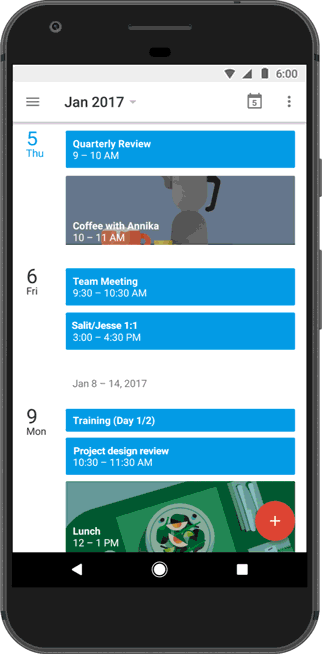 New Year's resolutions are a lot easier to create than they are to keep. Luckily, Goals in Google Calendar is there to help you find time for the things that matter. Set a goal like "run 3 times a week," and Calendar will help you find the time and stick to it. Starting today, we're adding new ways to make sticking to it even easier.
If you're setting out to achieve a goal, seeing progress can be a great motivation. Goals in Google Calendar makes finding time for activities like hitting the gym or going on more runs easy. But it hasn't been as easy to track whether you're reaching that goal — even if you're using fitness tracking apps in parallel — since you still have to manually mark your goal "done" every time. Starting today, you can connect Google Fit and Apple Health to your fitness goals in Google Calendar. When you do, activity in your favorite fitness apps will be recorded and used to mark your goals in Google Calendar as "done" automatically.
And you can see how you're doing with the new visual performance tracker.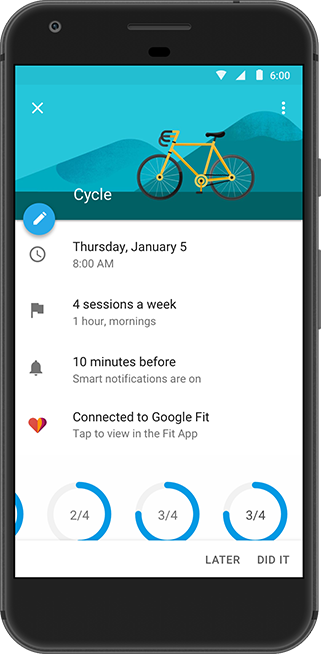 With this integration, future goal times will be even more tailored based on when you're most likely to complete them. Say you set a goal to run at 6:30 every other morning but aren't actually hitting your stride until 7:15 — Google Calendar has you covered and will adjust accordingly. So not only can Calendar keep track of your activities and performance, it can also help you find the best time to do them.
Happy 2017! Here's to great success with all of your goals this year.