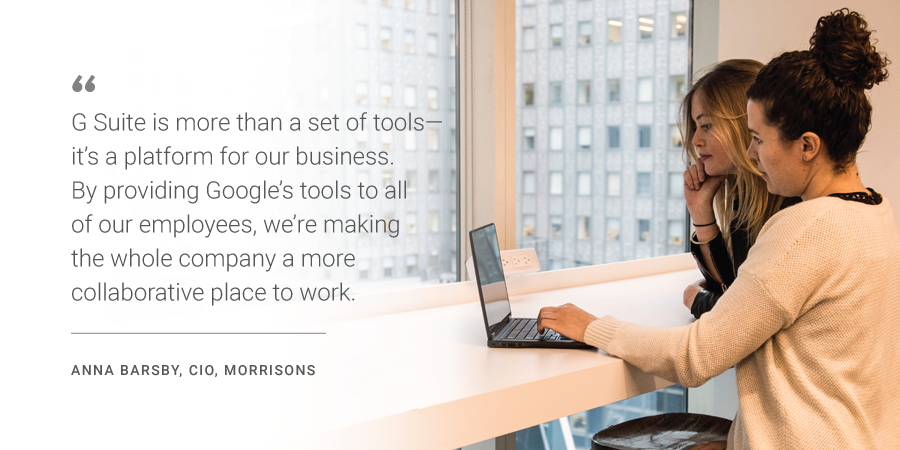 G Suite helps businesses stay connected from all over the globe. Here are a few examples of Google Cloud customers who are using G Suite to collaborate, increase productivity, and drive efficiency, no matter where they are.
Customers stock their fridges easier with Morrisons, G Suite, and Google Cloud Platform
Eleven million customers trust Morrisons, a leading UK supermarket, to provide quality food at affordable prices each week. With 120,000 staff nationwide across more than 500 sites, good communication is crucial. G Suite helps Morrisons connect every member of their team affordably, whether they're picking stock in a warehouse or serving customers in store.
Morrisons used to print half a million sheets of paper every week and file them in over 3,000 filing cabinets in order to fulfill compliance requirements. Now, with collaboration in Docs and rapid information collection with Forms, they've reduced paperwork. Outside the office, staff have replaced clunky VPNs and outdated handheld devices with G Suite, which can work on any device. And with Google's intuitive administrative tools, local managers can set up new accounts in three minutes instead of five to ten days.
Instead of shared logins, all employees have a G Suite account, and Google+ brings these colleagues from across the company together to share tips and advice. Morrisons also improves services based on customer feedback collected by shop floor staff that use apps on mobile devices.
Remote researchers with the UK Department of Health collaborate with G Suite to solve global health concerns
Approximately 600,000 patients between 2014-2015 participated in studies with the National Institute for Health Research (NIHR), a part of the the UK Government's Department of Health. Whether NIHR researchers are investigating to see if nuts can cure nut allergies or testing the effectiveness of schizophrenia medication, every one of their projects is different in its size, duration, and location. This means they need to cater to a fluctuating roster of around 6,500 remote researchers on top of 2,000 core organizational staff.
With G Suite, NIHR has cut their IT system costs approximately in half compared to their previous system and have also saved an estimated several million pounds using Hangouts to replace travel.
Each team member uses Gmail instead of disparate email addresses or aliases like before. They use Google+ as a corporate broadcast tool to reach all of their users with news and advice.
They also can work from any device with peace of mind knowing that their data will stay secure with appropriate security permissions no matter where they designate their "lab" for a day. Since the team switched to G Suite four years ago, they've yet to experience a loss of service or data.
NIHR researchers integrate G Suite with the vast array of systems. Some use Awesome Table to plan diaries and manage processes, and others use G Suite and Maps to create heat maps from source data to assist in research.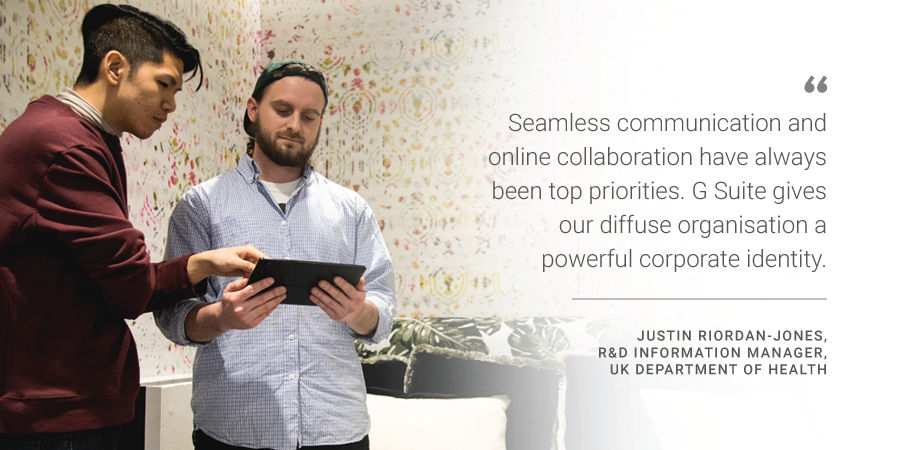 Travis Perkins uses G Suite and Chromebooks to build the UK's future infrastructure
Travis Perkins plc is the UK's leading building merchant and largest supplier to the construction market. The company's IT team of four uses G Suite to help their 30,000 colleagues optimize their work day.
Coordinating 2,000 building supply branches, home improvement stores and suppliers is a major challenge, and G Suite tools encourage creativity among employees in central offices and on the warehouse floor by showcasing these new user-led solutions.
For example, customers often arrive in store with a brick they want to match, and by photographing the brick and uploading the photo to Google+, masonry experts across the country can pool their knowledge and suggest solutions right away.
The company also built a new intranet on G Suite, which combines Calendar, Gmail, Drive and Sites for its employees. Travis Perkins staff use this tool to present tasks, deadlines, performance reviews, status of colleagues, calendar reminders and Hangout links where a team can jump into a meeting — all from one screen. Based in the cloud, the directory is available on mobile and is easy to access and update. With cost-effective Chromebooks and Google's web-based system in warehouses and stores, Travis Perkins is helping unleash the talent and skills of everyone on their team.