How technology can help us become more sustainable 7 años ago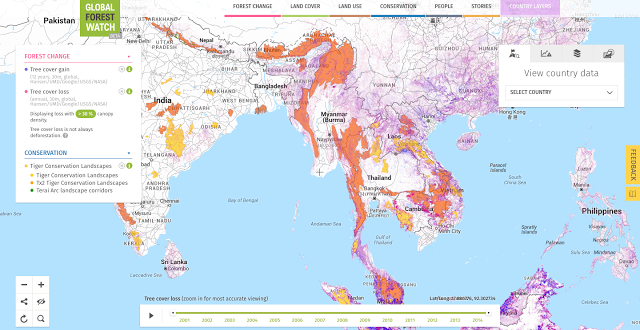 Anyone can now view tiger conservation areas (in orange and yellow above) using Global Forest Watch.
Going solar
Looking to generate clean energy savings with solar power on your home? Check out Project Sunroof, a solar calculator that estimates the impact and potential savings of installing solar on the roof of your home. Taking Google Earth imagery and overlaying annual sun exposure and weather patterns, Sunroof is able to assess viable roof space for solar panel installation, estimate the value of solar and savings based on local energy costs, and connect you with providers of solar panels in your area.
As of this week, Sunroof expanded to 42 states across the U.S. (from 10 states in December), which makes imagery and data available for a solar analysis to 43 million rooftops. We're also working with organizations like Sierra Club and their Ready for 100 campaign to help analyze the solar potential of cities across the U.S.
Project Sunroof shows you the solar potential of your home and city, allowing you to realize its renewable potential. The image on the right shows how much sunshine Denver, CO residents can capture with solar.
Measuring air pollutants
For the past few years, Google Earth Outreach and the Environmental Defense Fund (EDF) have been working together to map methane leaks from natural gas pipelines under our streets. Since methane is a very potent greenhouse gas (GHG), even small leaks can add up to big emissions that can hurt our climate. By attaching methane analyzers to select Street View cars, we've driven more than 7,500 miles and have mapped 4,200+ leaks in 10 cities. What we found ranges from an average of one leak per mile (in Boston) to one leak every 200 miles (in Indianapolis), demonstrating the effectiveness of techniques like using plastic piping instead of steel for pipeline construction. We hope utilities can use this data to prioritize the replacement of gas mains and service lines (like New Jersey's PSE&G announced last fall). We're also partnering with Aclima to measure many more pollutants with Street View cars in California communities through this year.
[youtube https://www.youtube.com/watch?v=9TrE2x6zURo]
Technology is crucial to increasing energy efficiency, raising climate change awareness, and sustainability efforts. To learn more about what you can do to help, take a moment to explore our Google Earth Outreach site, where these tools and more are described in depth.
Posted by Rebecca Moore, Engineering Director, Google Earth, Earth Engine & Outreach
Rebecca Moore Engineering Director Google Earth, Earth Engine & Outreach