While Google for Work and Microsoft Office 365 offer many similar services, choosing between the two can be a significant challenge for CIOs. This comparison eases that burden.
(UPDATE: This story has been modified to correct an error regarding the amount of storage that comes with the entry-level Google for Work plan.)
CIOs and IT managers have many choices when it comes to cloud-based productivity tools for email, documents, calendar and file-sharing. The first two options that come to mind for most, however, are Google Apps for Work and Office 365.
CIO March 2016 digital issue
Download the March 2016 digital issue
Inside: What you need to know about staffing up for IoT, how cloud and SDN set Veritas free & much more!
READ NOW
The former packs all the familiarities of the Google Apps suite, including Gmail, Hangouts, Drive and Calendar, while the latter comes with the longer legacy of tried-and-true Microsoft Office apps, such as Word, Excel, Outlook and PowerPoint. The two options have unique strengths and weaknesses, and each is best-suited for specific types of businesses and users.
Google for Work vs. Microsoft Office 365: Price, simplicity and storage
Both services start at $5 per month. Microsoft requires a full-year commitment for its enterprise plans, while Google's entire suite is available on a month-to-month basis. Google also offers a yearly discounted plan for $50 a year, plus tax.
Every Office 365 user gets at least 1TB of cloud storage, while Google's entry-level plan provides considerably less space: 30GB of online storage per user. However, Google provides unlimited storage for accounts with at least five users on its $10 per month or $120 per year (plus tax) plans.
Google also gets high marks for simplicity, because it offers two relatively straightforward plans.
Microsoft makes things a bit more confusing with six total packages — three for small and medium-size businesses and three for large enterprises — that range in price from $5 to $20 per month, with a yearly commitment.
Pricing is an important determining factor, but equally important for CIOs are the feature sets, security safeguards and user experiences of both platforms. The ideal cloud-based platform is secure, stable and simple for employees to learn and use. Cost is just one of the many concerns IT managers must consider when investing in cloud-based productivity platforms.
[Related News Analysis: Android for Work pushes Google further into enterprise]
Eric Schlissel, CEO of IT consultancy GeekTek IT Services, says his company uses Google for Work, but more often than not he recommends Office 365 to clients because they are already heavily dependent and invested in Microsoft Outlook. Many business owners are reluctant to change the way their offices work, according to Schlissel.
«We tend to recommend Google for Work to clients with a younger and more tech-savvy workforce,» Schlissel says. «CIOs should look at how their employees use technology and work outwards from there.»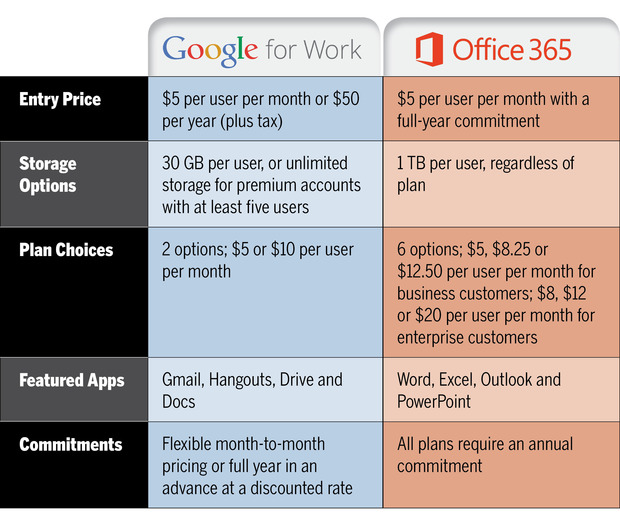 Where Google for Work falls short
At Creative Solutions in Healthcare, a company that owns and operates assisted-living facilities, the IT department uses Google for Work while the rest of the company relies on Office 365, according to CIO Shawn Wiora.
«In many ways, Google for Work is a low-cost equivalent of Office 365, and it's a great fit for startups and small businesses that need to limit costs while achieving 'good enough' status,» Wiora says. «However, the cost savings come with a number of nuances that limit its fit for enterprise customers.»
Wiora says there are at least four problems with Google for Work that can add up to a major burden for businesses. He cites «shared calendar issues, an inability to transfer Excel formulas directly into Google Spreadsheets, compatibility issues and vertical-specific decisions like Google's past refusal to sign a HIPAA BAA [Health Insurance Portability and Accountability Act Business Associate] agreement for the healthcare industry.» Google removed the barrier for organizations that need to comply with HIPAA in late 2013.
In Wiora's experience, Google's suite keeps up with Office 365 about 90 percent of the time. It's that other 10 percent that «makes Google for Work a poor substitute for medium and large enterprises that expect to simply pick up in Google where they leave off with Microsoft.»
BetterCloud, a company that provides security and management services for Google Apps and Office 365, also uses both Google and Microsoft's offers, according to Tim Burke, BetterCloud's IT director.
The company primarily uses Google for Work as the sole platform for its corporate calendar and conference room reservation system, but it also provides Office 365 accounts to users who work on its Microsoft-related products.
«We've looked into many solutions for coexistence between the two platforms (especially for calendar and contacts), but there's nothing mature yet that allows Google Apps and Office 365 to 'play together' well on a single domain,» Burke says.
Both platforms are enterprise class, with almost identical offerings, according to Burke, who says Google's suite is becoming more «enterprise» every day.
«Many people don't realize [Google has] been in this market for over six years at this point, and Google Apps is used by some of the largest organizations in the world,» Burke says. Google's strengths also include a deeply integrated infrastructure and a simple licensing structure, he says.
Office 365 provides a continuity with legacy solutions that makes it easier to keep everyone happy with the applications they've been using for many years, or perhaps decades, but it's also evolving. «Office 365 is based on Microsoft's legacy products and is becoming more 'cloud-enabled' and easy to manage,» Burke says.