Get polling place and ballot information quickly and easily 7 años ago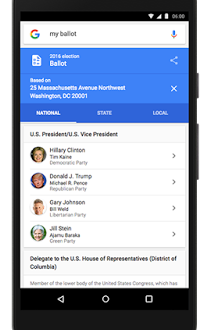 The final step: showing up! With various polling places popping up across your hometown, we want to make sure you find the info you need from state to state. Starting today and as we continue to add data from each state over the next couple of weeks, whether you're planning to vote early or in person on November 8, just search "where to vote" and Google will display a polling place location finder as well as voting ID requirements.
While people can find this crucial information right in Google Search, we're also opening this data up to other organizations for free. From technology companies like Uber, Twitter, Expedia and Hotels.com to nonprofits like Pew Charitable Trusts' The Voting Information Project, and Democracy Works' TurboVote Challenge, organizations of all shapes and sizes can use our products and the Google Civic Information API to create tools that get this information into the hands of as many voters possible.
We hope these features will help you get the information you need, when you need it. Your vote matters, so make it count.
Posted by Jacob Schonberg, Product Manager and Kate Sokolov, Program Manager, Politics & Elections https://2.bp.blogspot.com/-S5agzUF3-1o/WBORxVPGR2I/AAAAAAAATKk/v-xJYKa3kxA9RdUkee9fXZbkyqar376vgCLcB/s1600/Google_Vote.jpg Jacob Schonberg Product Manager Google <!– INSTRUCTIONS Enter info below to be used in google.com/about site blog syndication. Leave elements empty if there is no valid data. Example: https://2.bp.blogspot.com/-S5agzUF3-1o/WBORxVPGR2I/AAAAAAAATKk/v-xJYKa3kxA9RdUkee9fXZbkyqar376vgCLcB/s1600/Google_Vote.jpg Jacob Schonberg Product Manager Google –>