Bringing education to refugees in Lebanon with the Clooney Foundation for Justice 7 años ago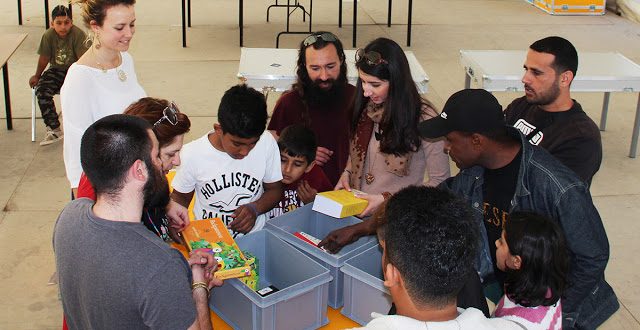 Discovering the resources of the Ideas Box in the Eleonas refugee camp, in Athens, Greece
A White House call to action
In June, we signed on as a founding partner of the White House's Private Sector Call to Action for Refugees, an effort by the administration to bring together a cross-section of businesses to help make significant commitments that will have a measurable impact on refugees both in the United States and around the world. We're participating in the conversation at the White House Summit on Refugees today in New York, and will continue to build on our efforts.
You can learn more about grantees and their work at google.org/refugees, and you can donate directly on our site and via the White House's AidRefugees.gov.
Posted by Jacquelline Fuller, Director, Google.org https://4.bp.blogspot.com/-ortc2qBz65s/V-CCwQEjH5I/AAAAAAAATA4/0hCOAPdRescymVIMl8Lf7bCM6qQPq_BcQCLcB/s1600/Screen%2BShot%2B2016-09-19%2Bat%2B5.28.26%2BPM.png Jacquelline Fuller Director Google.org <!– INSTRUCTIONS Enter info below to be used in google.com/about site blog syndication. Leave elements empty if there is no valid data. Example: http://1.bp.blogspot.com/-mX0dxJxp8dg/Vo8MSdxypWI/AAAAAAAARsI/EjaFhvgAEgc/s1600/Beutler_Google_Giftwrap_-v2TW.png Jacquelline Fuller Director Google.org –>